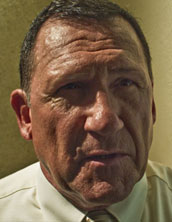 Art LaFleur as Agent Wallace
With an extensive history of working in film, television and stage, Art has a face that you have seen a hundred times. Some of his favorite feature highlights have been Santa Clause 2 and 3, The Replacements, Air America, Field of Dreams, The Sandlot, Man of the House and the comical and nostalgic Zone Troopers. Art's television appearances are numerous and include The Mentalist, Cold Case, House, Malcolm In The Middle, Still Standing, ER, The Practice, Tales From the Crypt and JAG. A native of Gary, Indiana, he derived his athletic presence from participation in football through college, and coaching baseball and soccer in park league. Since Art started his professional career in an equity play at the Mark Taper Forum in Los Angeles, his first love has been stage. He recently starred in the long running, Bill W. and Dr. Bob in L.A. to outstanding reviews. Art, a working actor, now also teaches acting in Los Angeles.
I did not have a political agenda in doing this film, but thought the script showed a point-of-view about the plight of illegal immigrants that was unusual and heart-rending. It was surprising to learn, for instance, that immigrants sneak back and forth across the U.S./Mexico border on a frequent basis for work as day laborers. I am sure that the production team of ILEGALES will do the topic justice.