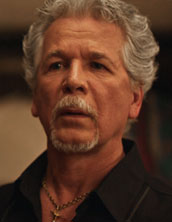 Fred Valle as Ricardo Gutierrez
Fred has appeared in television, film, and theater productions for over 25 years and is a three time winner of the ACE Award, most recently for his role as Pedro in the 2008 PRTT production of Dinner for Two. He's had numerous roles on NBC, Telemundo, and other major U.S. television networks, on show such as Law & Order, Third Watch, The Closer and Tierra De Pasiones. Along with his role in ILEGALES, recent film credits include the lead role as Dimitri in the film Carpe Diem and the lead as Luis Crawls in Spare Change.
It was a pleasure to have been a part of ILEGALES. Such a beautiful project. I enjoyed working with everyone involved, and loved the commitment of everyone on the project. The production team is giving the audience a good story, a story of real issues like immigration. Let's hope that more producers take on these kinds of projects.