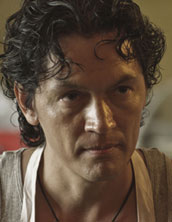 Jorge Jimenez as Ignacio Rivera
Jorge is a sensuous Latino who has emerged as a solid actor from Mexico City. Initially discovered at a bus stop, he was accepted in the prestigious Bellas Artes to study drama. Film credits include Blow and 7 Kilos. He has done national TV work in Mexico, and appeared on CSI: Miami, promos for MTV's Singled Out, and in the series Corazon de Toro, which is in development for HBO Latino. Jorge "hit the jackpot" when he was cast in the role of a protective brother Ernesto in the Ariel Award and Cannes Audience Award winning Hasta Morir.
Before working on this project I knew about immigration, but hadn't really felt the true nature of the anguish and heartbreaking challenges these people constantly face. I've come to realize that immigration is a social issue about the human spirit seeking to express itself. Portraying a character who has all of his hope and love squashed when the government splits up his family. . .it moved me to the core. I am truly grateful to be a part of ILEGALES, and to the producers for bringing such a moving and honest story to a greater audience.