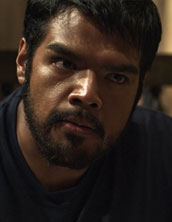 Salome Martinez as Chuy Sanchez
Salome Martinez originally hails from Chicago. TV credits include Law & Order, Law & Order: CI, Sesame Street, The Conan O'Brien Show, and The Soprano, and HBO's Emmy nominated mini-series Generation Kill. Film credits include The Messenger, starring Woody Harrelson, winner of the Peace Film Award at the Berlin International Film Festival, New York, I Love You, with Natalie Portman and Shia LaBeouf, and El Evangelista, winner of the Audience Choice Award at the Chicago Latino Film Festival. He received an M.F.A in acting from the University of Florida.
Actors try to bring and use as much of their own personal observations or insight to every character, which is why ILEGALES was a grand experience, both professionally and personally. I am a product of illegal immigration, so the stories and people in the film are like those I grew up with. During filming, I felt like I was helping to tell the story of not illegal immigrants, but simply of human beings. I hope that the story of real human beings is what comes across in the film.