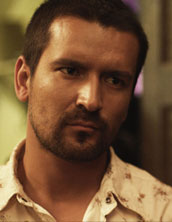 Luis Bordonada as Ariel
Luis discovered acting as a child through church-sponsored theater productions, but spent six years in the U.S. Army's 82nd Airborne before rediscovering the craft in 2003. Recently he was cast as Rico in The Book of Eli, a Hughes Brothers film starring Denzel Washington, released in January of 2010, and in A Bakery Story, by Matt Bizer. Additionally, he has done theater productions of A Midsummer Night's Dream and The Tempest, television commercials for Showtime Networks, and hosted a spanish/english language entertainment program called Remix TV.
My parents brought me to the U.S. illegally at the age of 10, so as a native of northern Mexico, I've lived many of the experiences that ILEGALES touches on. The role of Ariel was a huge, complex undertaking. I really "found" the character on the first day of shooting, after interacting with the actors who played the field workers. Their camaraderie and love brought my character to life, and all of the cast and crew became like a small family during the production. I believe that ILEGALES is a story that can transcend international, economic, and cultural borders.