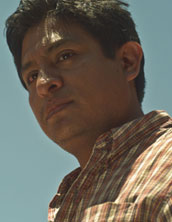 Omar Leyva as Arturo Chacón
Omar considers himself a student of life and a professional actor, always giving to and indebted to his craft. On the stage, he has played everything from Shakespeare's Othello to Bernardo in West Side Story. Omar has portrayed Uncle Max in The Sound of Music and Zoltan Karpathy in My Fair Lady. In addition, he has worked independent film projects and television shows like CSI, Entourage, 24, Criminal Minds, The Mentalist, and Heroes. Recent film projects include Beverly Hills Chihuahua and Pineapple Express. In addition to ILEGALES, Omar was involved in another immigration themed film, Labor Day.
I was born in Mexico City and raised by my grandmother in the small village of Aljojuca, Puebla. We joined my father in California when I was eight and I moved out at the age of fifteen. As an actor, I have always been drawn to stories that speak about overcoming obstacles, that exhibit the emotional weight of choices, and honestly explore the human experience. Working on ILEGALES and bringing Arturo Chacón to life is a proud achievement for me. The immigration issue is not simple. It is morally heavy, and is a human experience that puts the protagonist on a path of both hope and danger. The amazing cast and crew behind ILEGALES validates what is beautiful about the art of filmmaking.