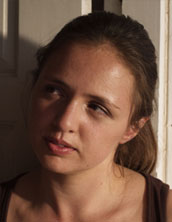 Paola Poucel as Juana Vargas
Paola is an actress, singer and voiceover artist based in New York City. Her stage career started in Mexico with the State Theater Company, directed by the acclaimed Mexican director José Solé, where she was part of the classic play Fuenteovejuna and Cinderella in New York City. Fascinated with daring projects she played the lead role in original works like the rock opera Amusia in Salamanca, Spain. As a voiceover artist, she was recently selected as the official voice of Microsoft for Mexico and Latin-America. ILEGALES marks her debut on the big screen.
After reading the screenplay of ILEGALES for the first time, I was struck by its sincerity. The characters and their stories feel so close to reality that you get involved with them from page one. Juana, although not one of the main characters, provides balance, stability, and love in Ariel's life. I'm Mexican and very proud of it. I love my country and its people, and it hurts me to see it in the hands of thieves and drug lords. Most illegal immigrants know that cross is wrong, but they also know it is their only chance to survive and to earn a respectable way of life. ILEGALES is a project made with love.