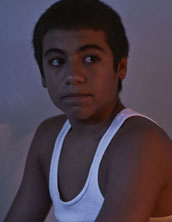 Ray Aguayo as Gabriel
Ray's budding film career includes the role of Chico in Beer for My Horses, featuring Toby Keith, the role of Luis in North by El Norte, and a small part in The Eye, with Jessica Alba. He has also done work for the Nickelodeon television network, including a game show and a pilot called Laugh Out Loud with Kenan Thompson. Commercial advertising work includes print pieces for the United Way and PNM, as well as a handful of television commercials.
ILEGALES was a great learning experience. Out of all the movies I have worked on, it was the most rewarding from a character development standpoint. Playing a young, tuberculosis stricken boy was very intense. The river crossing scene was especially exciting because of the swift current, and the need to wade on my knees to make it seem like the water was up to my neck. It was also rewarding to watch Shirley Rumierk and Salome Martinez get into character. My hope is for the film to touch people's hearts and illustrate the sacrifice and consequence of difficult decisions.